Auto Rickshaw Tattoo Advertising Placing our advertising on passenger auto-rickshaws by branding with a tattoo on Auto rickshaw top is known as Auto Rickshaw tattoo advertising
Auto Rickshaw Tattoo Advertising
Placing our advertising on passenger auto-rickshaws by branding with a tattoo on Auto rickshaw top is known as Auto Rickshaw tattoo advertising.  It is also called Auto top panel advertising.  The advertisements on auto tops will spread the message to every corner of the city all the time, to reach a large audience in the preferred catchment area to improve brand visibility.
Why use Auto Rickshaw Tattoos Advertising
– We can communicate our message or Brand effectively to our target market effectively
– Top panel at Back side of an auto-rickshaw top can be branded.
– Improves Brand Visibility in targeted residential, catchment areas
– Cost-Effective and long-lasting.
One of the best BTL Branding Activity.
How to plan Auto Rickshaw Tattoo Advertising
Size & Shape:
Size of Auto Rickshaw tattoo is: W-26″  X  H-10"
Artwork / Design:
Keep your artwork as simple as possible and effective.
Hence keep your message in a single line.
Auto rickshaw tattoo with a lot of information is not a good idea.
Most of the time Auto rickshaw will be in moving, hence Auto rickshaw tattoo is a moving media keep this in view while designing.
We can use 2 or 3 colour artwork on Auto rickshaw tattoo.
Keep your Address simple, We suggest to avoid PIN Code, State, Country in address
Location:
Identify the strategically ideal location with availability if autos to have high impact.
Select the area which has a good number of audience flow and Autos movement to Brand Auto rickshaws
Quantity:
Based on the available number of Auto Rishckshaw tops for branding in the targeted location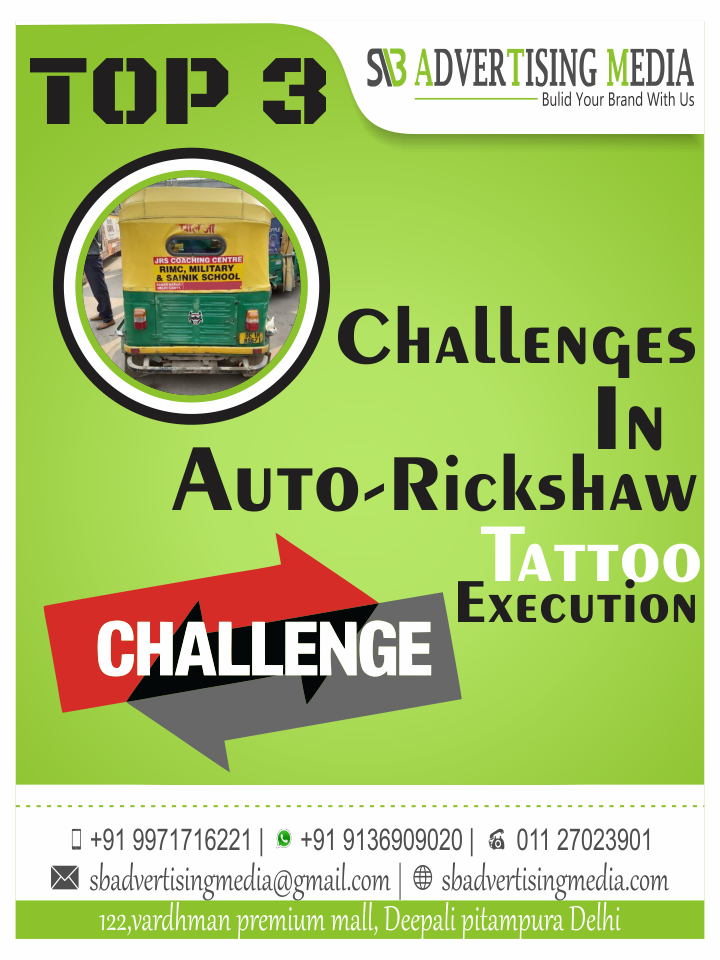 Top 3 Challenges in Auto rickshaw tattoo Execution
Proper Planning and Execution is crucial to get the best results from Auto rickshaw tattoos branding…
1)  Targeting potential location to Advertising on Auto rickshaw tops
Use Google maps and your field staff knowledge to identify your potential customer locations.
Use our "Execution Monitoring System" to plan your Auto rickshaw tops.
2)  Monitoring of Execution
Need to send a dedicated person along with execution boys to monitor the execution at ground level,
Use our "Execution monitoring System" and monitor the live execution on your phone to ensure the quality of execution.
3)  Execution proofs
Checking with all the photos in the dump submitted by the vendor is a big challenge. There may be some duplication, tampered or morphed photos which are not possible to check in the dump.
Use our "Execution Monitoring System", Which enables you to watch the live execution with Photos, Location of auto fitting happening, Auto number, Contact details of Auto rickshaw driver to ensure 100% quality execution
Reach us on 9971716221 To know more about "Execution Monitoring System"
SB Advertising Media Ads , We are the prominent BTL advertising agency from New Delhi.
We use high-end technology called "Execution monitoring system" to ensure the quality and quantity of execution,
For more details please give a call to 9971716221 / 9136909020 or write us to sbadvertisingmedia@gmail.com
To have a bird view of all our services please visit "all at a glance"